AN OPEN KITCHEN FOR MURCIA
A HOME AND A REGION CONNECTED BY A KITCHEN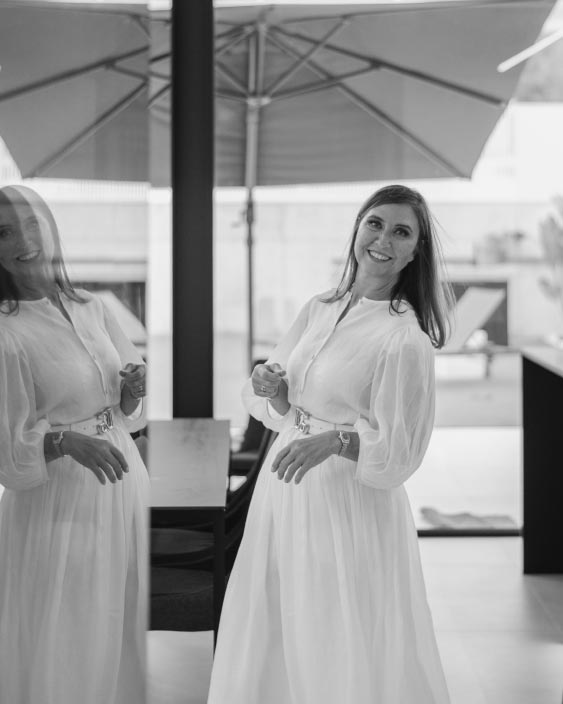 A FUSION OF NATURE AND DESIGN WITHIN A KITCHEN
A room that would represent the wishes and dreams of a united family. That was the goal of Nuria Pardo, interior designer at the kitchen studio of the same name located in Murcia: "I decided to work with Logos because it allows me to express and recreate my criteria in all areas of the kitchen, not only in terms of utility but also in terms of aesthetics, taking this to the limits."
SIMPLICITY THAT BECOMES LUXURY
A kitchen embodying harmony, cleanliness and serenity, making it possible to achieve something that many people long for: combining the leisure of everyday life with the work involved in preparing a dish in the kitchen.
"Logos offers me great adaptability with the confidence that the material is extremely durable with very demanding technical criteria. In this case, it meant that it was unnecessary to adapt to any existing handle and allowed me to create a customised one at the studio's request," Nuria Pardo notes.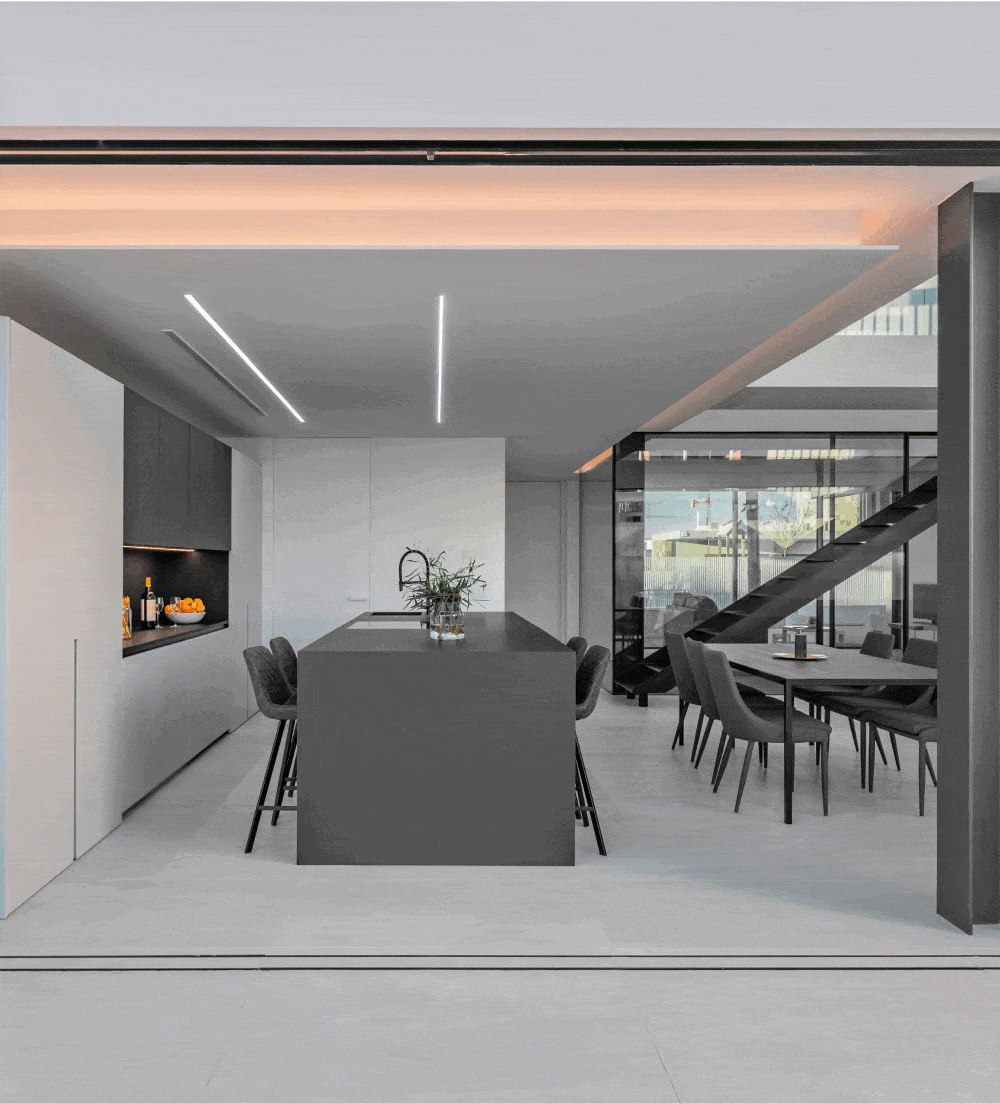 Aurelio Bariain, from the Logos customer satisfaction team, draws attention to Nuria Pardo's stringent requirements and the attention she pays to the smallest details: "We became familiar with her studio, and we realised that the way she worked was entirely in line with what we do at Logos. We are delighted that a professional like her trusts us with her projects."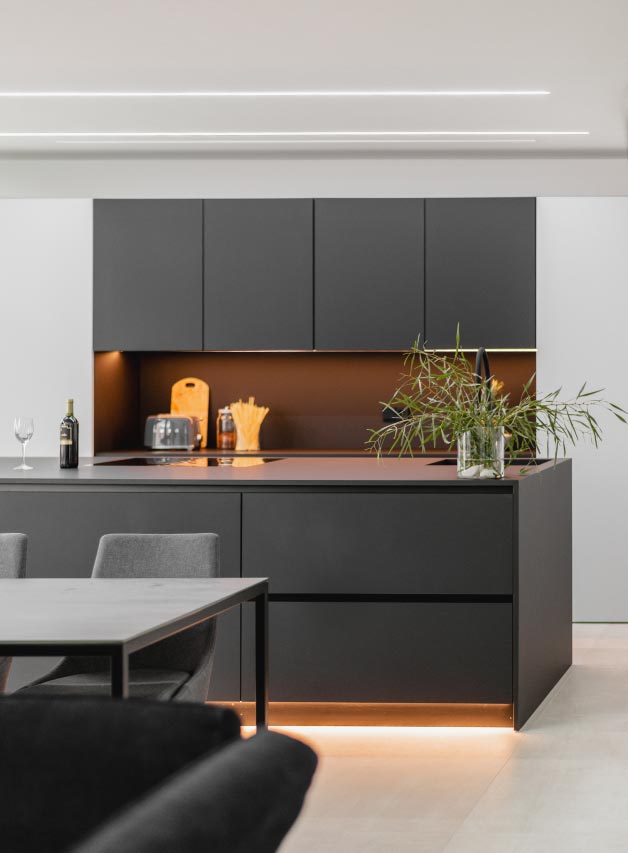 BLACK AND GREY, A COLOUR COMBINATION EMPHASISING ELEGANCE AND SIMPLICITY
A complete kitchen consisting of an area of columns with niches and a large island with a built-in table. This is the Aqua kitchen model by Logos, made of black Phoenix material and silk grey lacquer.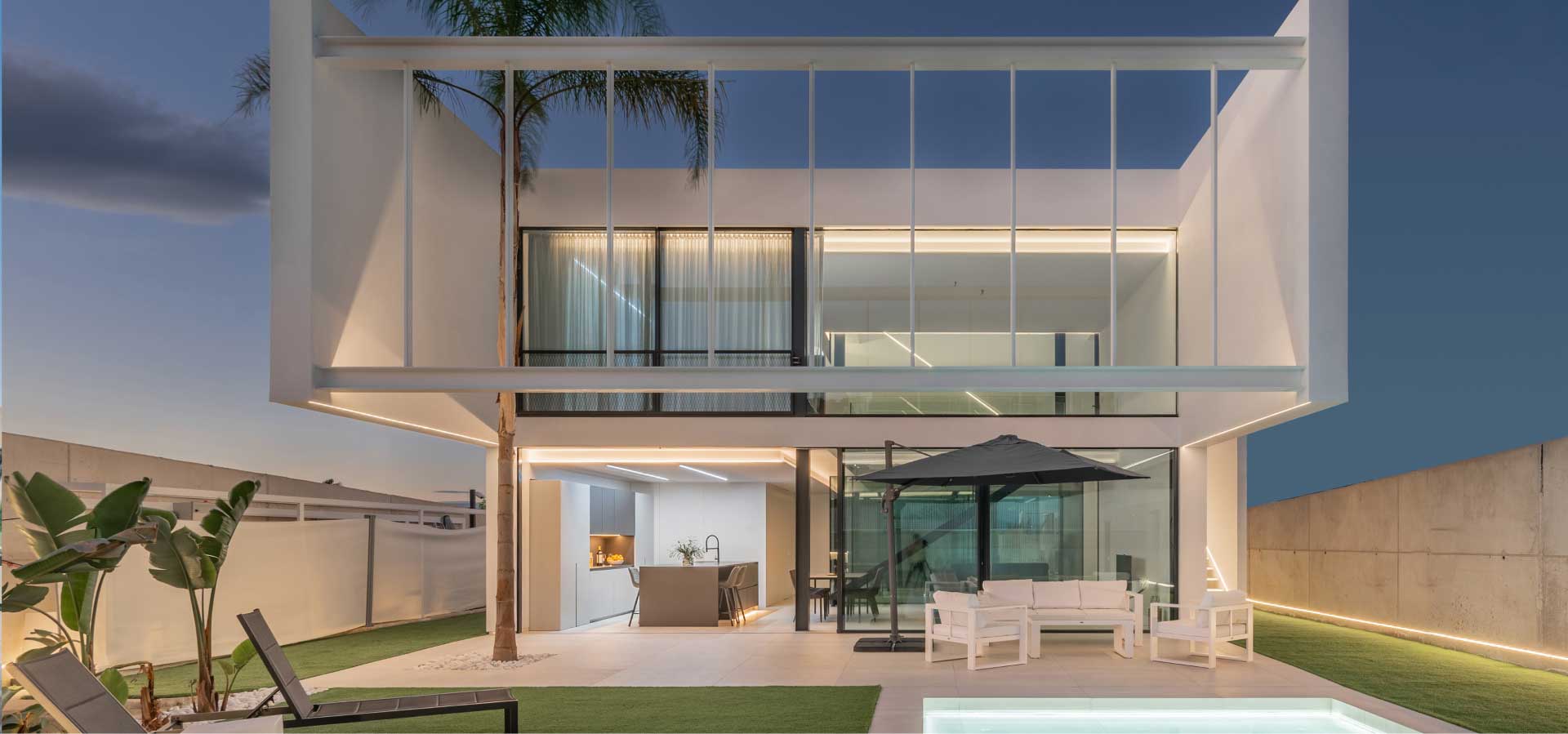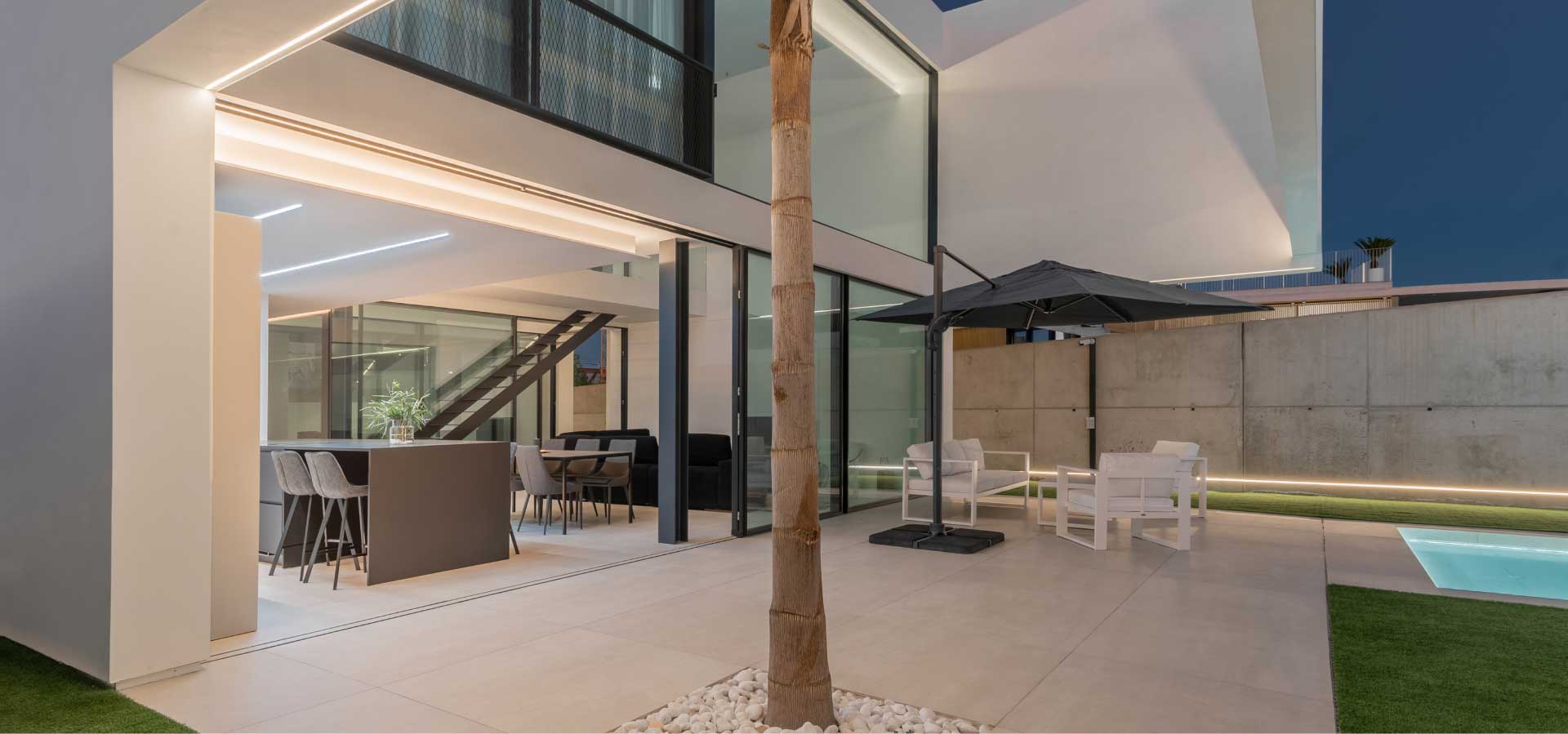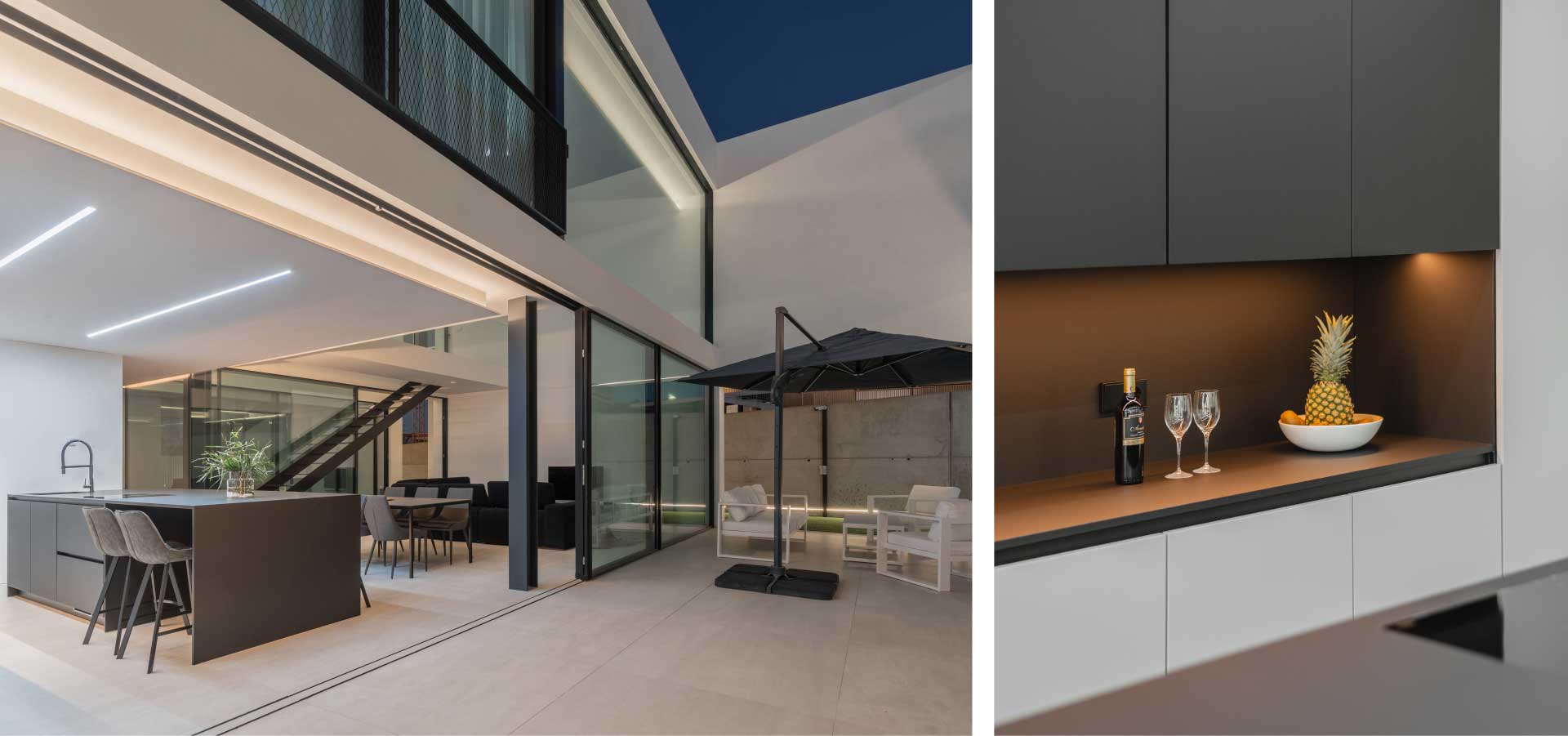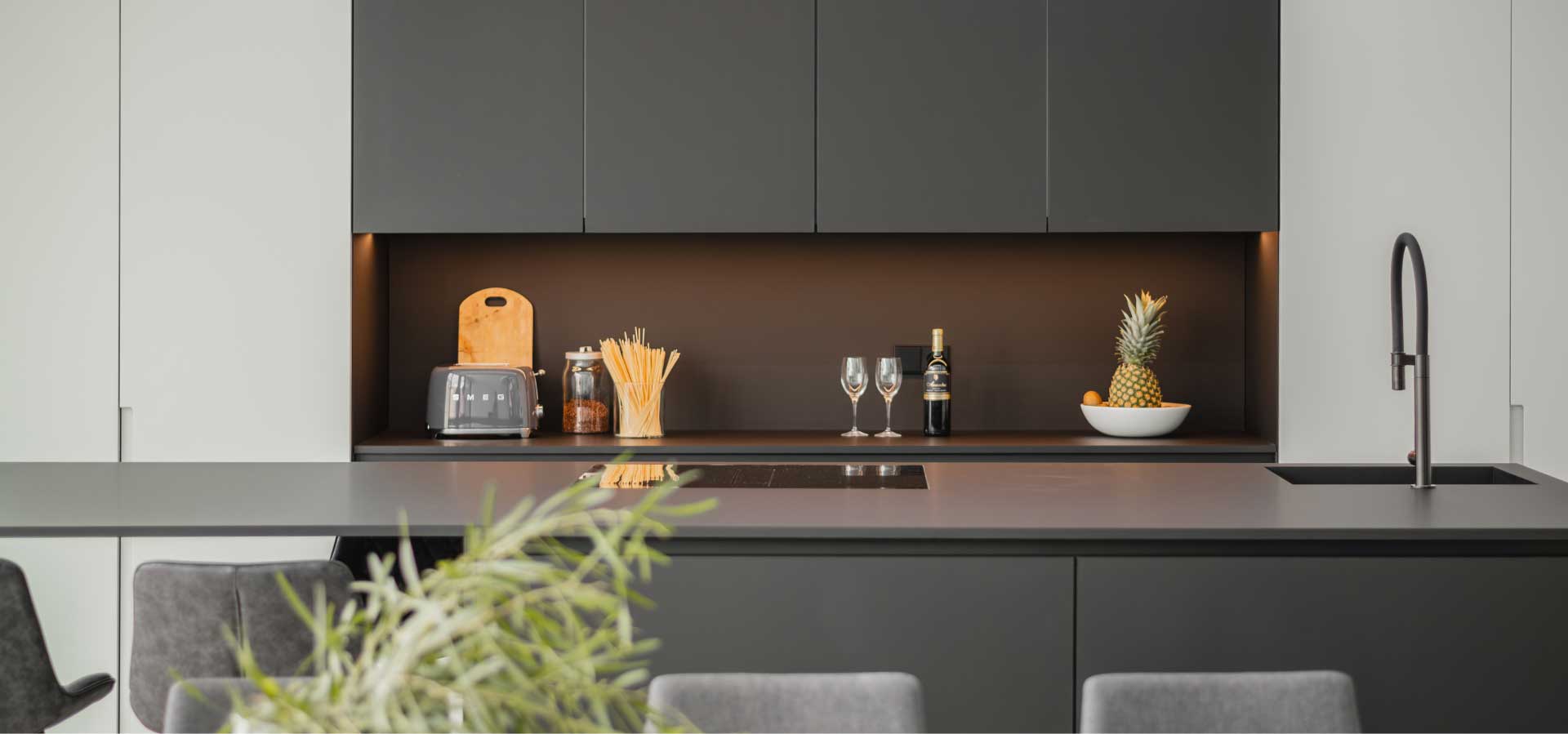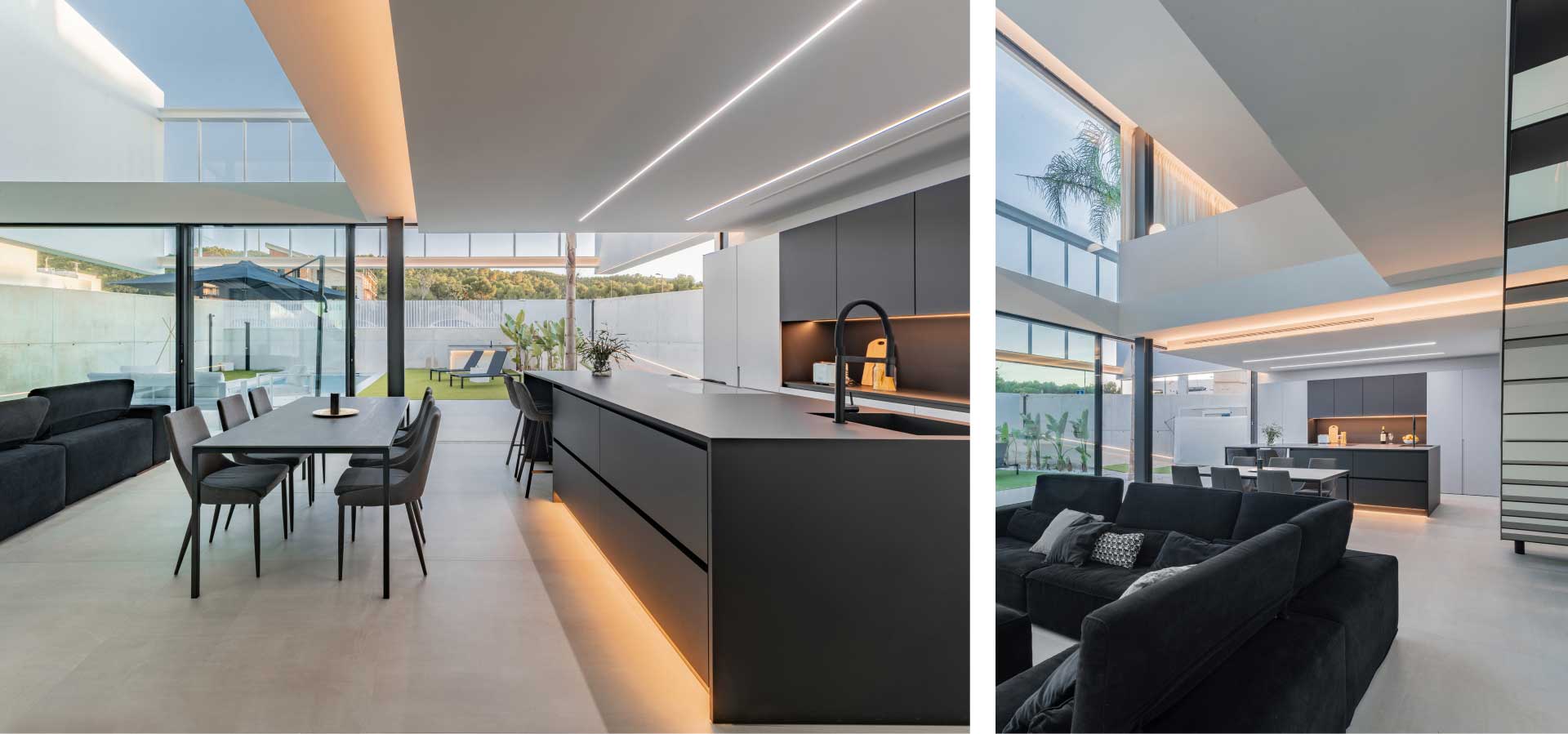 An open-plan project where nature is inside the home and vice versa.
"What surprised us most about this project is that Nuria has combined an access door with a cupboard and a kitchen, creating a single space in the process. She knows all about our products and has succeeded in taking advantage of all the possibilities offered by a manufacturer like Logos," notes Aurelio.
CONNECTING THE FAMILY THROUGH A KITCHEN
This very special kitchen has a large island where the hob, including the extractor fan, and the sink area are located. The extension of this island allows it to be used as a breakfast and lunch area, turning daily meal times into moments of family connection.
The use of elegant black Phoenix and silk grey lacquer provide the serenity and cleanliness that the designer Nuria Pardo sought to transmit in this project.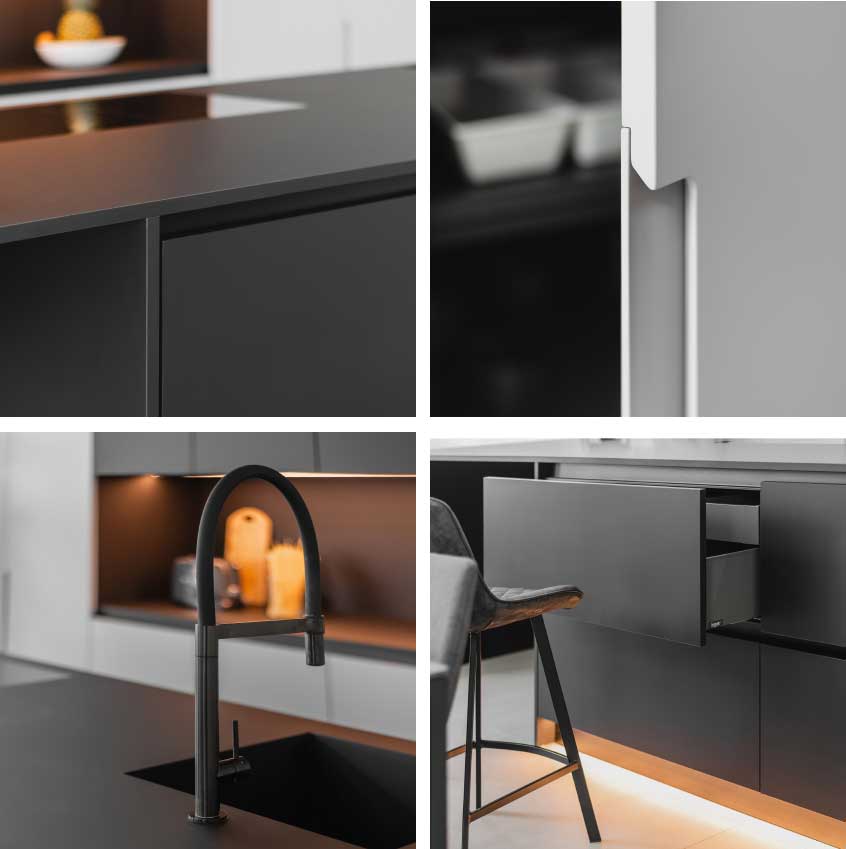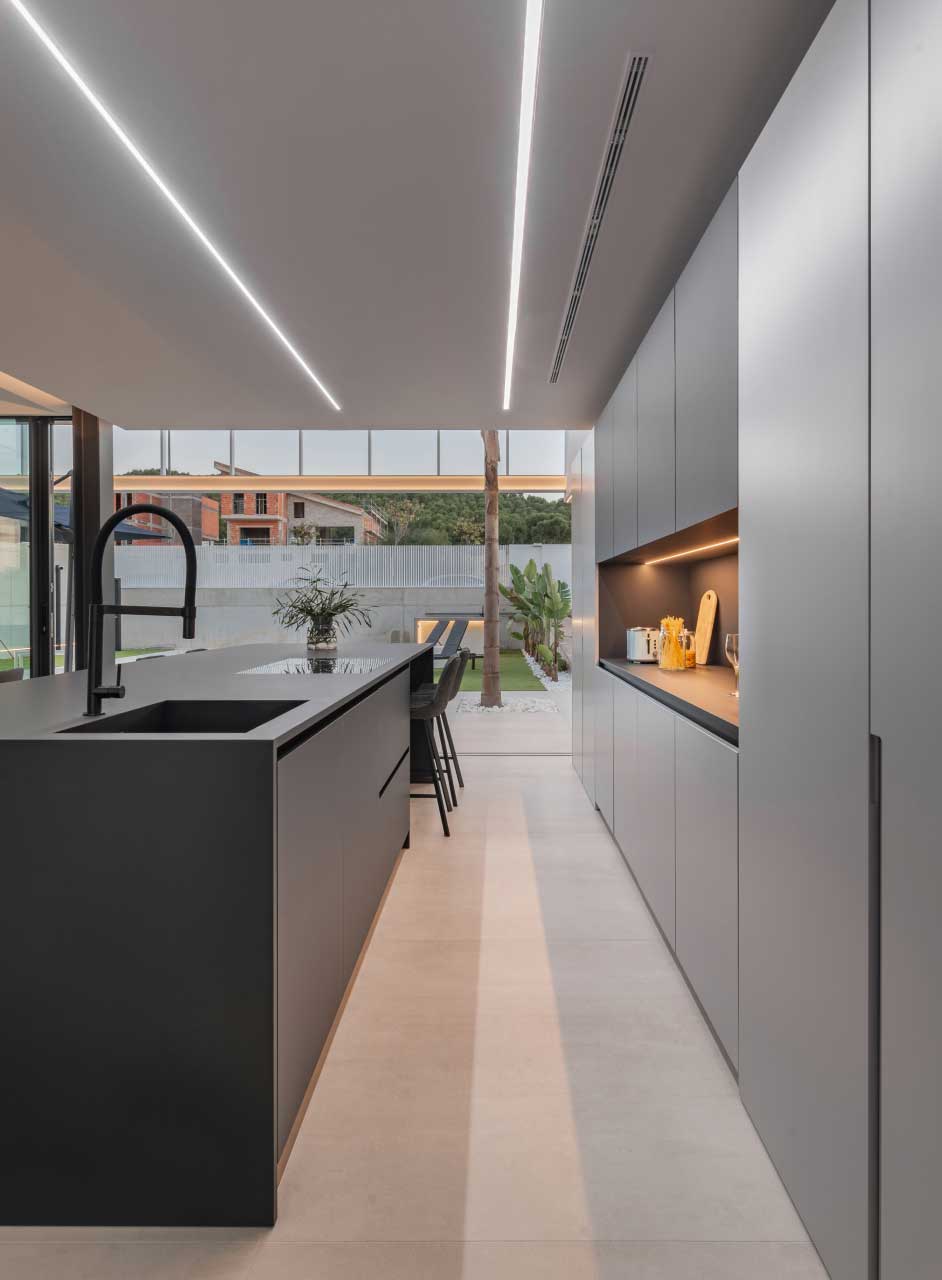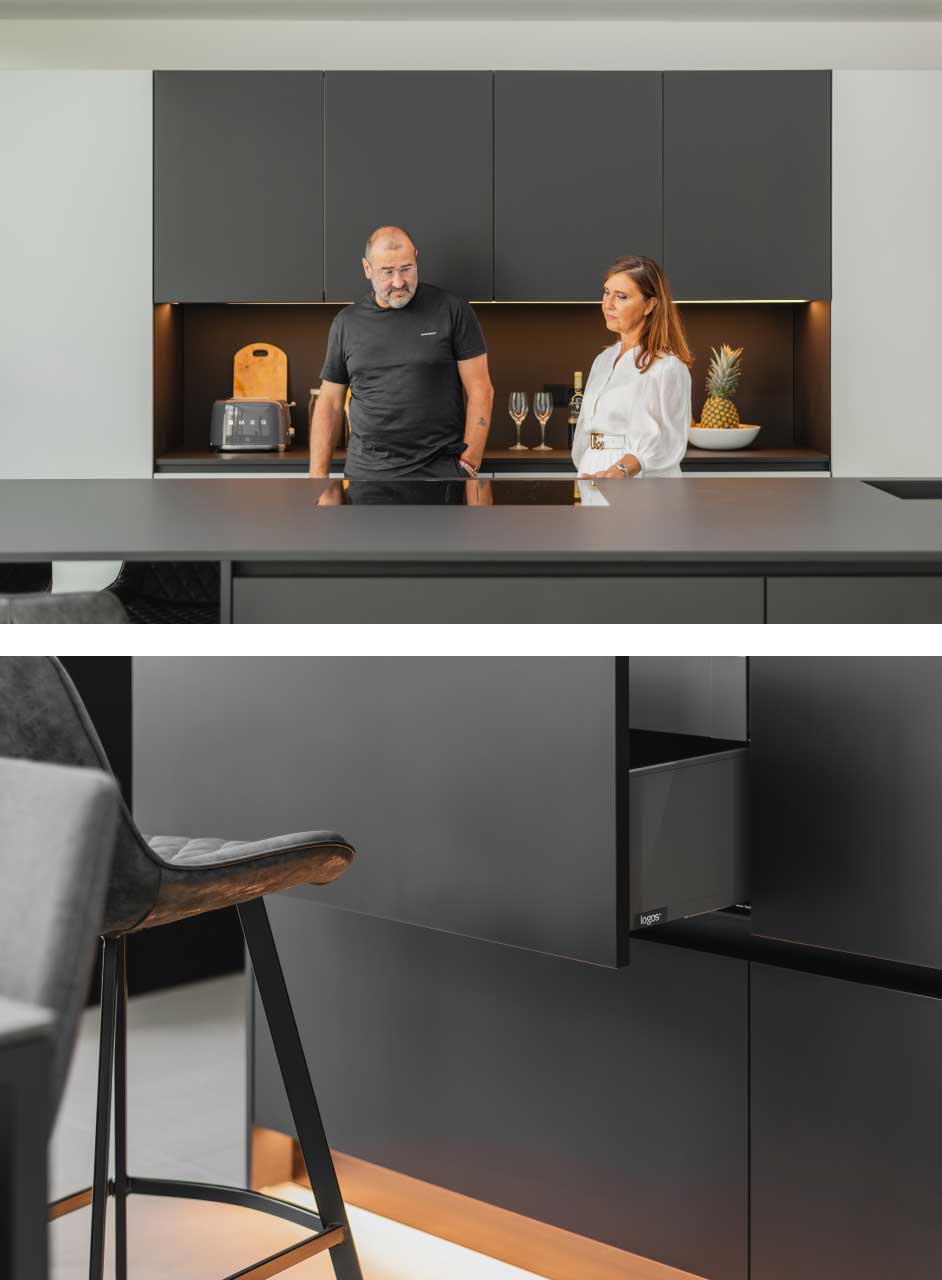 LOGOS: SYNONYMOUS WITH QUALITY AND HIGH DURABILITY
A large-scale kitchen project that lives up to all the expectations: "Logos offers me reliability and confidence. Two qualities that are not easy to find and which this manufacturer consistently provides. With them, I feel I'm in safe hands," says the interior designer.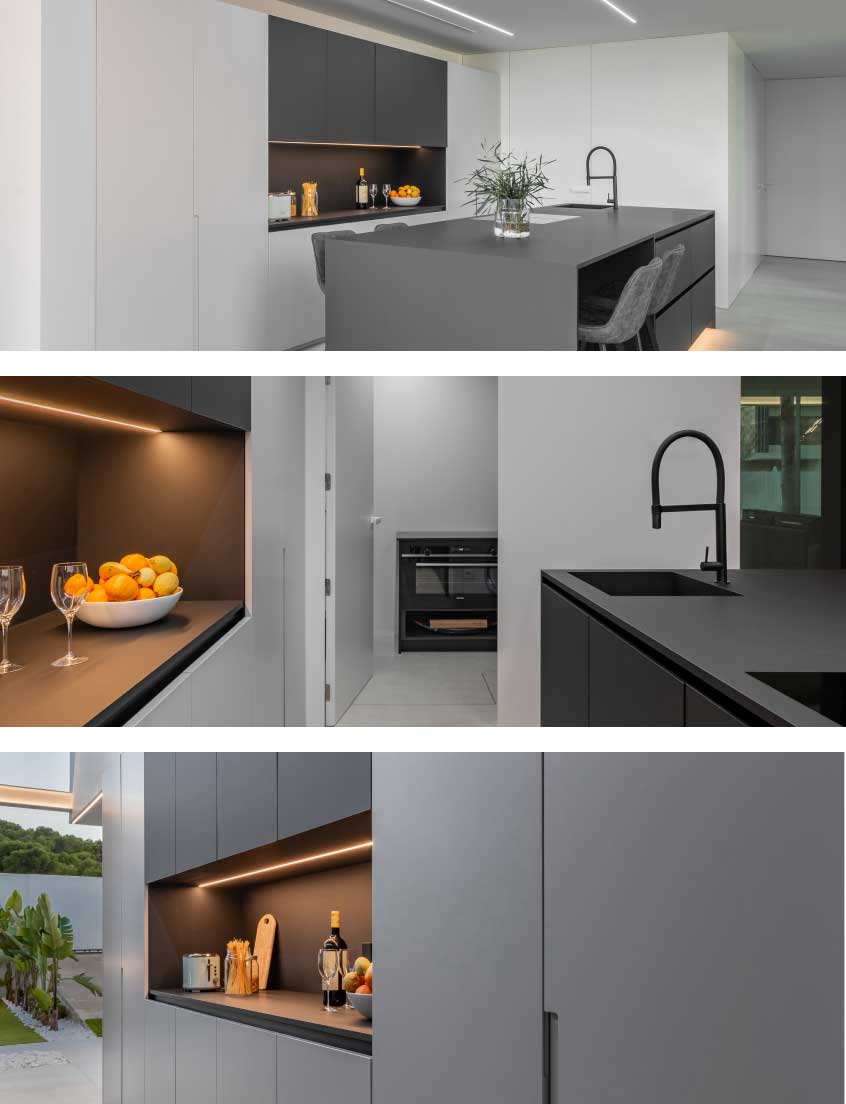 Discover unique projects
We do more than projects. We make dreams. Are you looking for inspiration? Enjoy the journey.